Meet the artist // Se Young
"I am making sculptures and paintings. I focus on vulnerable physicality in space and
relationships. I would like to express that every object has a skin and needs space. And I
believe this can be a universal principle regardless of whether it is a living thing or an object.
How can people make room for each other? I explore the body, which is temporarily located
both conceptually and physically." Se Young
What's your name and where you come from?
My name is Se Young. I was born and raised in Seoul, South Korea, and studied fine arts in New York,
USA.
How did your artist journey begin?
It began when I attended a grad School in New York. I majored in Fashion in the undergraduate, South
Korea, and I enjoyed making clothes in three-dimensional ways directly in a torso, but I always had a
desire to make something more weird creatures and stories. One day I took a seminar about contemporary arts, and I found myself instantly fascinated by it. The teacher introduced me to one of the famous contemporary art museums, MoMa in New York. After the class, I got an opportunity for a summer internship in the city. I visited many exhibitions there and was blown away. I was amazed at how each being's uniqueness was respected and given a voice in the artwork, no matter how minor, or insignificant it was. It influenced me a lot. I intuitively felt that this is what I wanted to do and what I needed to do. Then I decided to study arts in New York and this is the beginning point of my artist journey.
Do you find inspiration in real-life situations and moments you experienced?
Of course yes. I spend a lot of time observing the movements of strangers on the street, making drawings
and using found objects in my sculptures. I believe that art makes people think about their inherent
individuality, which is the most human thing we have. This is a very abstract concept and may not be very practical under capitalism, but in the end I think it plays an important role in making people run their lives. In that sense, observing real people, objects and places is significant to me. I want to express through my art the intimate moments and subtle strangeness that I encounter in my life.
What is your process? What are your overacting themes in your artworks?
My artistic practice is centered around the exploration of the vulnerable physicality of the body and the
representation of intimate moments or places imbued with an eerie quality. I am trying to capture the
fragile nature of humans.
For the process, If someone asked me if I am a sculptor or a painter, I would say I am an organizer. I
maintain a daily routine of writing dream journals and exploring the city through photography. I collect
images and objects that are familiar and domestic, which I then reassembled or rearranged into some
specific scene. Through this practice, I attempt to create a space for the audience to reflect on the
complexities of love and the fleeting nature of connections between people and place. I invite viewers to engage with their emotions and memories.
Do you think your art has evolved being in a different environment/ E.g. Do you think GlogauAIR/being in Berlin has influenced your work?
Yes. Place is part of my work. For example, during my stay at GlogauAIR, I went for a walk in the
Neukölln neighborhood and found an abandoned ironing board, which I used in my work. Moreover, I
found my paintings had muted gray tones, and I guess I was influenced by the color palette of Berlin's
buildings.
Also, observing and sketching people lying down has been added to my practice since last year. I believe that the lying position is the purest form of abbreviating life. We lie down when we are born and when we die, but it can also be a form of prayer, despair, meditation, or a gesture of love. I made sketches of people lying down in various cities I experienced, including Manhattan, Berlin, Seoul, and Frankfurt, and developed these as the material for my paintings. The environments I've experienced have a lot to do with how I work. The GlogauAIR residency allowed me to experience a city that was new to me for three months, and I feel very fortunate to have been able to do so.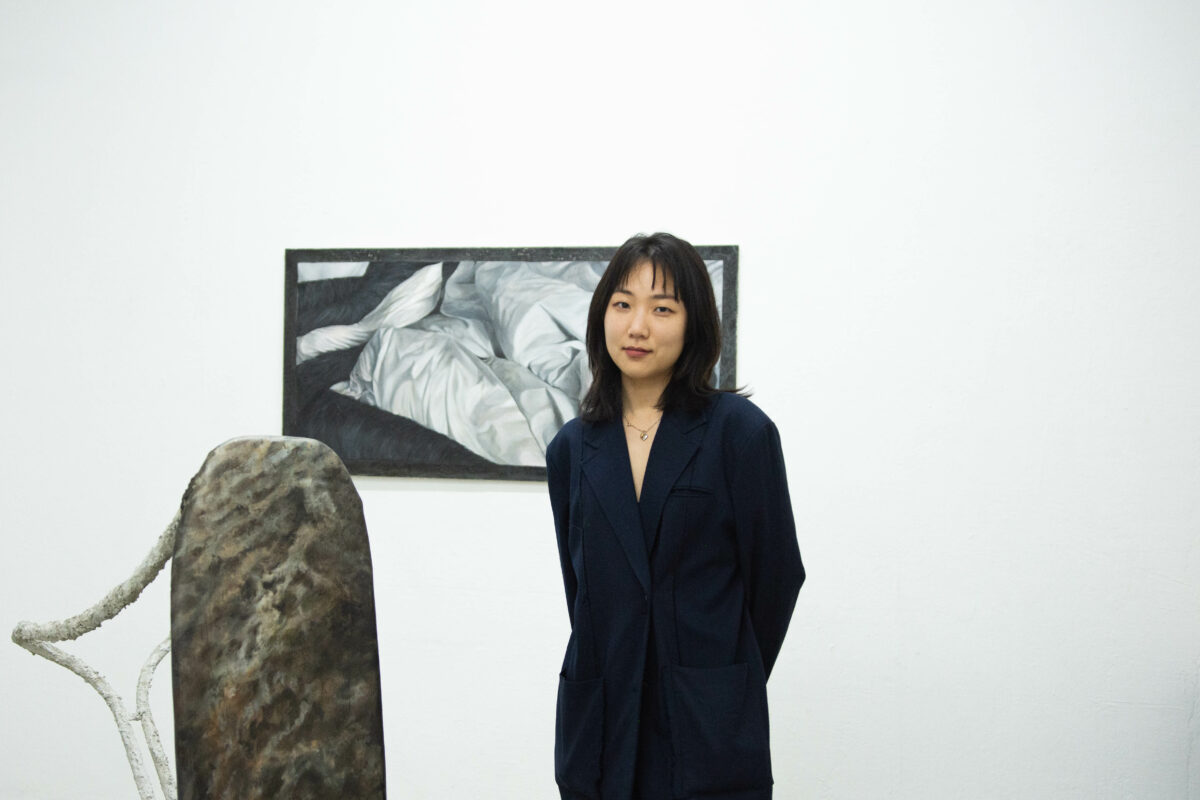 Photography by Marc Haeffner @marchaeffner