Emma Sarpaniemi is an artist and photographer based in Helsinki. In her practice, Sarpaniemi investigates definitions of femininity through collaborative and performative self-portraits. She playfully dives into the relationship she has with the models she works with, to explore intimacy and companionship.
Two Ways to Carry a Cauliflower (2021-) is a performative photography series exploring women's self-portraiture. To free the subject (and the gaze) from certain patriarchal ideals of femininity, Sarpaniemi creates a character which is a playful and tender representation of a woman who behaves, looks and performs on her terms and rules. Sarpaniemi creates an image of a woman which is blurred between her identity, reality, and fantasy. The series is a playful and modern yet timeless portrayal of womanhood.
During GlogauAIR residency I was working on a self-portrait project called Two Ways to Carry a Cauliflower. At the start, I was reflecting on a large selection of images I had photographed before (Self-portrait Wearing Red Socks and Self-portrait as a French Toast). I wanted to go more in-depth on the project's methodological part. The mind map helped me to understand what kind of rules I used in the images to break them in the shoot I was planning to make. I found a strange house to shoot the new images to create different characters placed in an environment, which is real at the same time but feels like another decade.
I felt confused about the outcome after the shoot since the photographs were different compared to the previous ones I made. The light was different, the environment was heavier and I was showing more of it. In some of the images, my presence felt distant and I didn't recognize myself.
In the end, for me, it's important that I recognize myself in the images, although the character is imagery there are still parts of my identity and reality. In the new photographs (Self-portrait as a Pinocchio, Self-portrait as a Pink Mermaid, and Self-portrait with Yellow Friend) I can see parts of myself. Pushing myself to try something new I understood what is the essence of the project and how to go further. I'm thankful to Laura Olea López for all the support, help, and guidance during the residency.
When I start to plan the shoot I always draw sketches of the poses or as I want the picture to look. Often I already have the image in my head that I want to make. Having so many ideas and poses to try, the sketches help me to be organized and understand the outcome as a whole.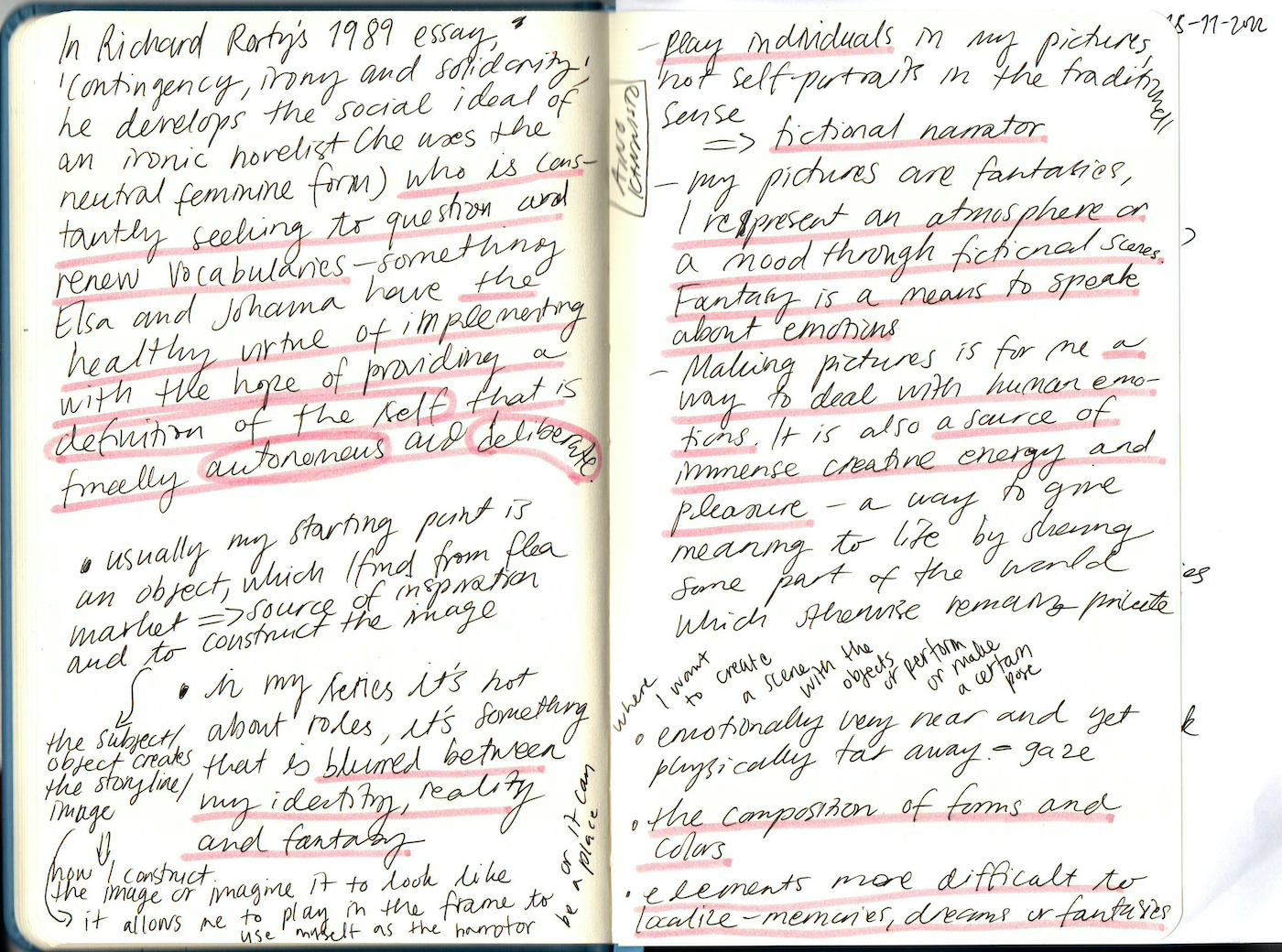 Researching work of Elsa & Johanna and Aino Kannisto. What is their motive for making self-portraits? Is the character part of their identity or a narrator of a story? Researching their work I realized that in my self-portraits I'm not creating a fictional character, which is representing a certain sub-culture or a person or time. Although the character is staged there are always parts of my identity and everyday life.