Kunstraum Kreuzberg/Bethanien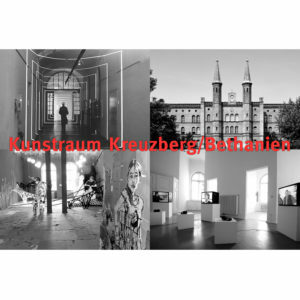 Kunstraum Kreuzberg/Bethanien is an exhibition space for contemporary art with a focus on current social and cultural issues. Central to the projects here are the meaningful contextualisation of themes and consideration for diversity, internationality, and local relevance.
At 450 sqm. and with over 200 running metres wall surface, the space is well suited to mid-size exhibitions. Around six exhibition projects take place in a year, some of which are realised as a collaborative effort with other institutions, curators or artist groups. Additional programs such as tours, films, discussions, and artist talks function as reinforcement to the exhibitions. Given our own limited budget, we rely heavily on third-party funding and partnerships for our projects. Kunstraum Kreuzberg/Bethanien is an organisation of the Friedrichshain-Kreuzberg District Council.
Kunstraum Kreuzberg/Bethanien owns a collection of round 450 artworks, which includes art from Hans Baluschek, Erich Büttner and other artist, who lived in Kreuzberg like Hanefi Yeter, Akbar Behkalam, Luise Grimm or Christa Eichler.