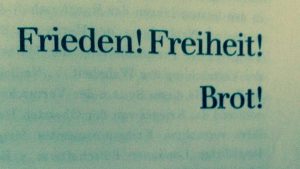 German/History is a German conversation course with a difference.
Over the span of 4 weeks, (19th of August to the 9th of September from 12-2pm) participants will get the chance to practice and improve their German skills whilst learning about historical events and periods which have been intrinsic in forming the Germany we live in today. Lead by Christian Knauer, an experienced Berlin-born German teacher, Germanist and philosopher, this conversation course will focus on reading, comprehension and, of course, conversational skills, and is appropriate for those with an established German level of B2 and above.
The course will run for 2 hours on Monday afternoons, and each week participants will read about and discuss a different period of German history in a comfortable yet challenging environment in a way that enriches confidence and knowledge. Although the course is structured thematically week by week, participants who have a particular interest they would like to explore more are encouraged to let us know upon registration so that we can try and make sure this is incorporated into the course.
The course schedule is as follows:
Week 1: The Origins of Germany: From the Germanic Tribes, to The Thirty Years' War, to the Enlightenment.
Week 2: The Foundation of the German Idea: From the rise of Prussia to the end of the Great War.
Week 3: Fragile Freedom, Unyielding Terror: From the Weimar Republic to National Socialism.
Week 4: The Story of Two States: From the Wall to the Fall.
The cost of the course is 90€ for 4 weeks (8 hours in total), which will include a comprehensive reader for each participant that contains articles, essays, poetry and short stories. For students, single parents and those who are currently unemployed the cost is 80€.
Registration is limited to 15 participants in order to make sure everybody gets a chance to participate and ask questions. We are also offering a course called German/Kultur, which focuses on different areas of German culture such as literature, philosophy and culture.
Please send me a private message if you are interested or have more questions. Alternatively, email christianknauer@yahoo.de.