Justin Ross // Project Coordinator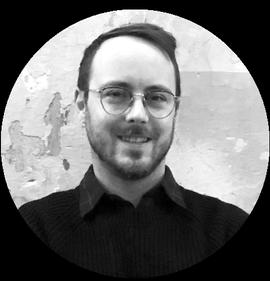 Project Coordinator
Justin is a curator and writer. He has worked with artists interested in the intersections of technology and fine art in New York and Tokyo and now reside in Berlin where he connects artists and creatives with industry and collectors. He has worked with a number of artists and groups to produce exhibitions in Berlin since 2012 and was a founding member and curator of SomoS Art House and managing editor 4SEE Magazine before joining the GlogauAIR multidisciplinary residency program in September of 2018.
His interests include cryptography, retrofuturism, the digital divide, and emerging art in all mediums. He obtained a Bachelors in the history of science from Yale University, completed a research fellowship in cultural elements of computing at University of Tokyo, and a Master's degree in cultural studies at the University of London.
He has worked with 100s of artists since moving to his chosen home in Berlin in 2012 and is excited to be a part of the creative energy that has always existed in this city that is constantly undergoing transformation.